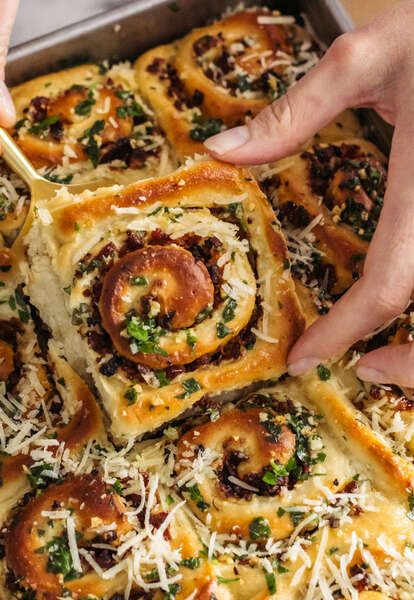 Joy Wilson's audacious recipes—from pumpkin spice calas to Mardi Gras moon pie bars— breathe New Orleans. You might know Wilson as the creator of Joy the Baker, the mastermind behind @drakeoncake or the host at The Bakehouse, a space for novice cooks looking to bake a galette de rois or improve their next jambalaya.
"I moved to New Orleans from California seven years ago now," she says. It's a magical city—one that will celebrate just about anything."
Every year since moving to the Big Easy, Wilson has developed a new king cake recipe to ring in Mardi Gras, gradually going from sweet to savory renditions. "So this year I was like, 'What if we deconstructed the cake and made it more of a savory cinnamon roll?'," she says. What emerged was a delightfully doughy, smoked andouille sausage roll with cream cheese filling.
"It's a bit of an intensive recipe, but totally worth it," Wilson says. "I break it up over two days, allowing the dough to rest in the refrigerator overnight. This gives you a break from baking, but also makes the dough super easy to work with."
Wilson's recipe makes use of potato dough. "It's my aunt's potato roll recipe from like, the '60s," she says. All it requires is one extra step of boiling potatoes, which are then incorporated, along with the potato water, into the dough mixture. Wilson likes to use russet potatoes, for their extra starchiness, but any potato will work just fine. "The mashed potatoes add this really creamy tenderness that's different from a regular yeasted dough."
When it comes to kneading the dough, Wilson warns that things will get sticky. For this reason, she prefers to use an electric mixer. "Just try not to add too much additional flour, because you still want to keep the dough tender," she says. "The rest in the refrigerator overnight will help develop the gluten, so you don't have to worry about kneading it half to death."
For the filling, Wilson likes to opt for Zatarain's brand andouille, a smoky, garlicky sausage made in New Orleans. "It's a sausage particular to down here," she says. "We use it for our gumbos and red beans and rice." That gets sauteed with "chopped trinity"—onions, bell peppers, and celery—then combined with cream cheese.
Once the dough is rolled out, and the filling is added, it's time to assemble it all into a coil and slice into rolls. Then, place the rolls onto a greased sheet and bake. "Just before eating them, I like to brush them with garlic butter, which is beyond," Wilson says.
She intends to serve her rolls on Fat Tuesday morning. "That's when we get up early, drink coffee and Bloody Marys, and head out to the Fat Tuesday parades that start around 8 am," she says. "They'll be a way to add some sustenance to our day of debauchery."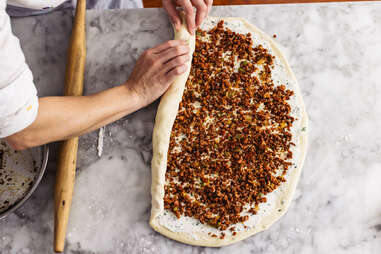 Andouille Smoked Sausage Mardi Gras Rolls
Makes 12 rolls
Ingredients:
For the potato dough:
1 cup (175 grams) unseasoned warm or room temperature mashed potatoes, lightly packed (about 1 medium to large potato), boiling water reserved
2 ½ teaspoons (1 pack) active dry yeast
2 tablespoons warm water (about 105 degrees) (cooled water that the potatoes were boiled in if possible)
¼ cup (50 grams) granulated sugar
2 large eggs, at room temperature and lightly beaten
2 teaspoons kosher salt
6 tablespoons unsalted butter, at room temperature and cut into cubes
Scant ¾ cup lukewarm water (water that the potatoes were boiled in if possible)
4 ¼ cups (520 grams) all-purpose flour, plus more if necessary
For the filling:
1 8-ounce package cream cheese, softened
¼ cup finely chopped fresh parsley
1 14-ounce package Zatarain's Andouille Smoked Sausage
½ cup chopped trinity (mostly onions, a little celery and bell peppers)
For the topping:
4 tablespoons (½ a stick) unsalted butter
3 cloves garlic, minced
3 tablespoons finely chopped fresh parsley
Instructions:
1. First cook the potato. I find it easiest to peel, quarter and boil the potato to softened. Remove the potato pieces and mash while still warm. Reserve the cooking water.
2. To make the roll dough, in a small bowl stir together yeast and warm potato water with a pinch of the granulated sugar. Allow the mixture to sit for 5 minutes until the yeast foams and froths.
3. In the bowl of a stand mixer fitted with a dough hood or in a large bowl to mix by hand combine the yeast mixture, eggs, ¼ cup sugar, salt, 6 tablespoons butter cubes, mashed potatoes, water, and flour. Whether bringing together on a mixer or by hand, roughly combine the ingredients with a spatula.
4. If using a mixer, place on low speed with a dough hook and knead together. If mixing by hand, begin to knead the dough until all the ingredients are cohesive and the dough begins to smooth. The dough should be soft, pliable, bounce, and rather smooth. If there are a few potato bits or chunks in the dough, don't worry—they'll bake to smooth. If you find the dough is too sticky, stop the mixer and allow it to rest for 5 minutes. Return to the dough and add up to ½ cup more flour. Dough should be soft but not very sticky.
5. Place the dough in a large, lightly greased bowl, cover with plastic wrap and allow to rest overnight in the refrigerator.
6. The next morning, make the filling. In a small bowl stir together softened cream cheese and parsley. Keep at room temperature.
7. On a cutting board, slice andouille into large 3-inch chunks. Use a fork to mash the sausage into crumbled, casing and all. In a large skillet over medium-high heat, saute crumbled sausage and chopped trinity until the sausage and onions begin to brown, about 10 minutes. Remove from heat and place in a medium bowl to cool slightly.
8. To assemble the dough, remove the dough from the refrigerator and knead for 8-10 turns on a lightly floured counter. While the dough is still chilled, roll it to a 10x16-inch rectangle on a well floured counter. The dough may be a little tough to roll chilled but it will eventually relax and stretch to a ½-inch thick rectangle.
9. Spread with the prepared softened cream cheese. Sprinkle with the browned sausage mixture. Roll into a tight coil starting on the longest side. Slice into 12 rolls with a sharp knife and place in a lightly greased 9x13-inch baking pan. Cover with a kitchen towel and allow to rest for 30 minutes.
10. Place a rack in the upper third of the oven and preheat the oven to 375°F. Bake rolls until risen and golden brown, 28-30 minutes.
11. While the rolls bake, in a small saucepan over low heat melt together butter and garlic until fragrant and the garlic has softened, about 5 minutes. Be careful not to burn the garlic. Remove from heat and stir in the parsley.
12. Remove rolls from the oven. Allow to cool for 10 minutes before brushing generously with garlic butter. Serve warm. Rolls are wonderful the day they are made. Store, covered in the refrigerator for up to 3 days. Rolls can be reheated in foil in a 200 degree oven for 15 minutes or until warmed to the center.